SCROLL DOWN PAGE FOR DETAILS ON :-

* POLYMER CANES (for SCULPTURE, BEADS & VESSELS.)

* PAVERPOL GARDEN ART.

* PRECIOUS METAL CLAY.

and WEEKLY DROP-IN CLASSES.
Please use 'CONTACT ME ' to book into classes.
POLYMER CLAY CANES for SCULPTURE,VESSELS & BEADS.

POLYMER CLAY WORKSHOP

Learn how to mix polymer clay colours & make unique beads,pendants or vessel.
(Includes 5 Polymer Clay colours)
COST: $140
NEXT CLASS :
SUNDAY 3rd JUNE 10am to 4pm
SUNDAY 29th July
SUNDAY 2nd September
SUNDAY 11th November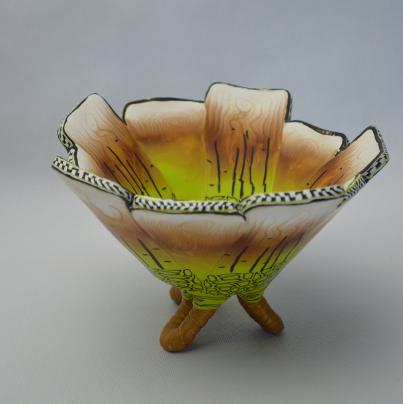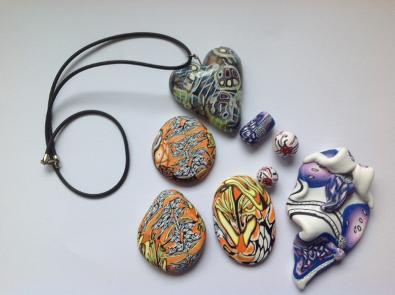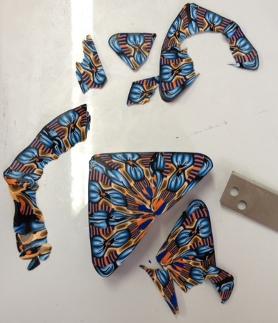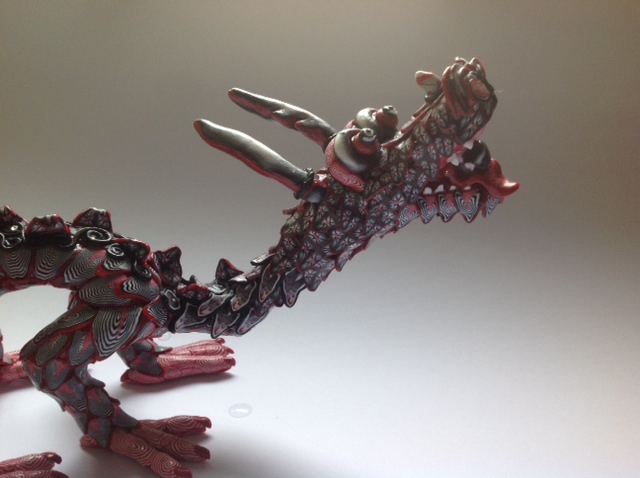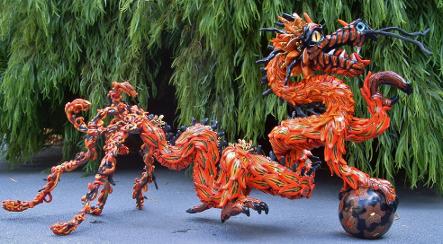 DROP - IN CLASS


WORK ON YOUR PROJECT OF CHOICE.
LEARN TO SCULPT FIGURES IN POLYMER CLAY, APOXIE SCULPT & MAKIN'S AIR-DRYING CLAY.
LEARN HOW TO FORM POLYMER CANES TO CREATE SCULPTURE, VESSELS, BEADS & PENDANTS.
LEARN THE BASICS IN WORKING WITH PMC SILVER ( $57 16GM CLAY + $10 SUNDRIES)


EVERY THURSDAY & SATURDAY
10.30am to 1.30pm

COST : $25
Materials extra.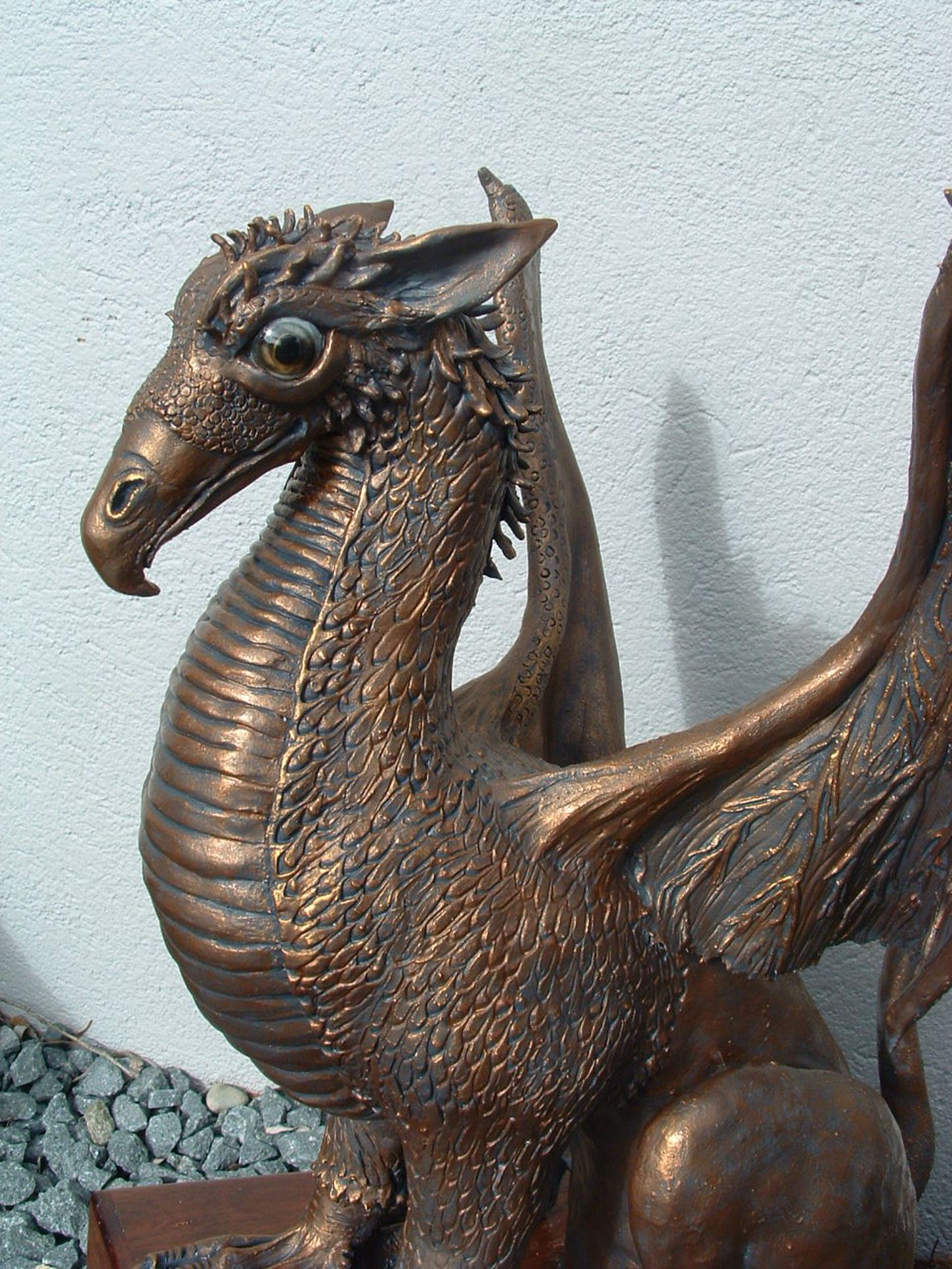 PRECIOUS METAL CLAY SILVER


Beginners Class

Learn the Basic techniques of working with 16g PMC3 (99% Silver).

Work with texture sheets & cutters to make your own pendant.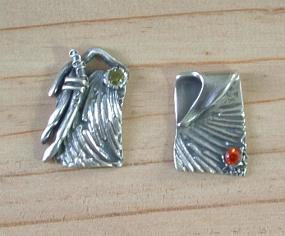 Suitable for Beginners.
COST: $125
DATE: TBA

Intermediate PMC3 Silver


Design & free form a Pendant using 16g of PMC3 Silver.
You will learn how to fire using a gas stove top, use Liver of Sulphur for colour
& how to finish the silver.
COST : $125
12.30 to 4.30
DATES: Sunday 29th April
Sunday 20th May

Sunday 15th July
Sunday 26th August
Sunday 21st October
Sunday 9th December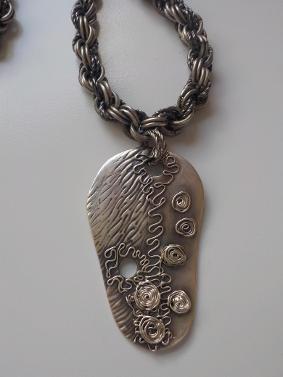 PAVERPOL INSTRUCTOR TRAINING


Contact me to organise a date.
9.30AM TO 4.30PM OVER 2 DAYS.

COST : $350

This Course is an introduction to Paverpol & the various techniques used for making armatures.

You will make 3 different types of sculptures...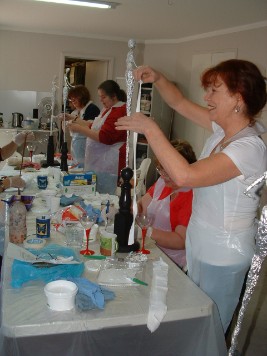 1/ Seated lady with foil shaped face. 40cm
2/ Standing lady with press moulded clay face. 60cm
3/ Nomad with polystyrene face and shaped nose. 40cm

You will learn;-
*Figure structure, 3 types of armatures.
*Figure wrapping, using fabric strips & wrappers.
*Figure draping and dressing.
*Head dressing, turban, hair & cord wraps.
*Finishing touches, dry brushing.
* ARTSTONE crackle earth on Nomad base.
* Introduction to PAVERSAND and DECORATIVE FIBRE
* Hints, tips and ideas.
* Colour mixing.


All product and instructions are supplied.

You will receive a DVD plus instruction folder.

An Accredited Workshop Instructors Certificate will be issued on completion of Course.

Web site listing.

Discount on products.

Paverpol sculptures are suitable for Outdoors & Indoors.

The following courses are available on a Friday through to Sunday, please contact me & we can organise a date for your class (if not listed already).
GRECIAN GODDESS
Create a Wire and foil armature for a standing lady 60cm tall.
Sculpt a face, chest, shoulders and hands (or use a mold for the face).
Wrap the body with fabric strips dipped in a weatherproofing product, (Paverpol).
Dip fabric into Paverpol and drape around the the body.
Dry brush extra colours for highlights.
COST : $160
10am to 5pm
DATE: 12th AUGUST
Bring Al. foil and lunch
SEATED LADY


Sculpture approx. 60cm tall.
Seated on a wooden post with fabric draping
COST: $110 ($5 extra to create a clay face)

OR
Seated on a wooden post, dressed using Paverplast and Artstone
COST : $120 + ($5 extra to create a Clay face)

DATE: Sunday 16th September

Sunday 25th November


10am to 4pm
Bring al. foil & lunch.


ELEGANT LADY

This Sculpture is completed in a 5 hour class.
Learn how to build an Armature then seal it with Paverpol fabric strips.
Dip & drape fabrics to dress your sculpture.

DATE : Contact me to make a date

TIME: 10.30 - 4pm

Cost: $130 60cm tall
$160 80cm tall
$180 90cm tall

10am to 3.30pm ( includes half hour lunch break)
BRING Aluminium Foil & Lunch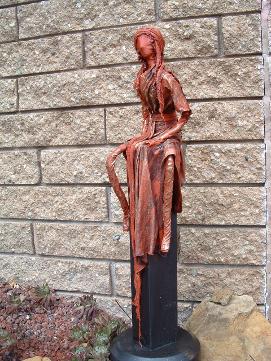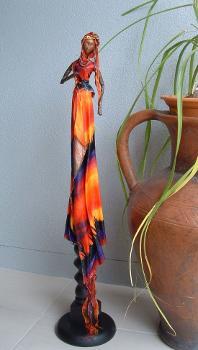 NOMAD


Create a Single Nomad using an armature, fabric & Paverpol.
COST: $150 90cm tall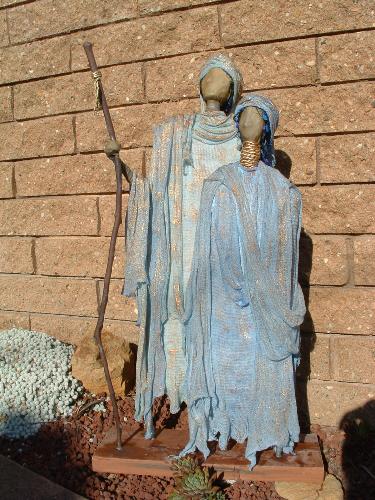 $130 75cm tall
$100 60cm tall
10am to 4.30pm (includes half hour lunch break)
DATE: Contact me to make a date.

Double Nomads $220 90cm tall
$185 60cm tall

The doubles will take an extra 1.5 hours to create.
DRAGON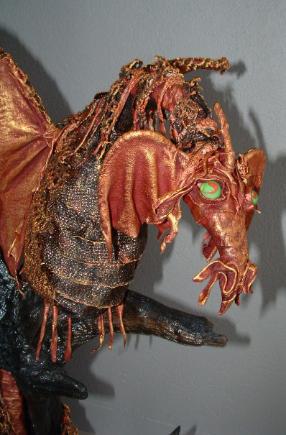 60cm in length, sitting on a wooden branch.
9am to 6pm

ALL MATERIALS SUPPLIED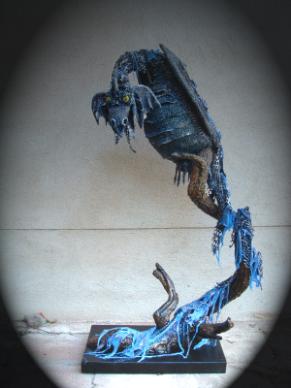 COST $350
Saturday & Sunday TBA

Contact me if you would like to attend a class